Biggest Makeup Mistakes Brides Make
Your wedding day has finally arrived and everything is perfect! There's not a cloud int he sky, not a hair is out of place, your dress is to die for...but before you get started on your makeup, let's talk about a few common mistakes brides make with their wedding day makeup.
The first cardinal rule is that your wedding day is most definitely NOT the time to try some fashion trend or experiment with a new look. The last thing you want is to have your face blotchy from having to scrub off some seriously unflattering makeup and reapply. If you are determined to have the hottest new look or color palette, set aside a day a week or so before your wedding to give it a test run. That way you will avoid any unpleasant results on the big day.
Let's start with prepping the delicate canvas you'll be working with. Make sure you choose the right foundation. You do not need to use more foundation than you would use for a night out, so don't overdo it. You will end up looking like you dunked your face in pancake batter, in person and in pictures. As long as your everyday foundation contains a good sunscreen and will hold up through all the crying, kissing, and photographs of the day, by all means go for it. And even if you never use powder, give your face a light dusting of translucent powder to keep your makeup fresh and in place all day.

You will also want to pay a little extra attention to your eyes. No doubt many happy tears will be shed, so waterproof mascara is a must. Many a bride has had her perfect eye makeup ruined by the dreaded runny mascara. Definitely don't forego the mascara because it will make your eyes pop in those wedding photos, but do take a moment to make certain you have a good, dependable waterproof formula on hand. (*Helpful Hint: Many brides think that opting to wear false eyelashes on their wedding day will solve the mascara dilemma, but most lashes come with glue that is weakened by tears, so unless you are opting for the false lashes that are bonded to your natural ones - much like hair extensions - stick with a good waterproof mascara instead).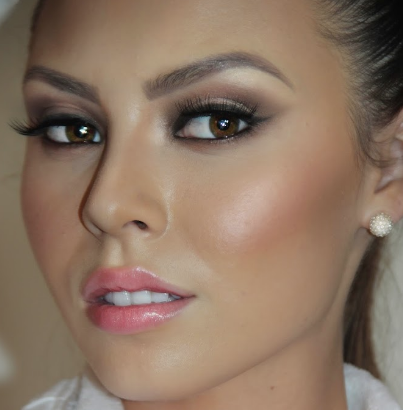 Another common mistake: PLEASE don't take the term "blushing bride" to insane levels! Your blush should make you look like you have just been gently kissed on the cheek, not slapped across it! Choose a pastel shade, avoid the glittery, sparkly formulas that are more suited to the dance club than the country club, and apply with a feather-light hand. Make sure to blend it so there are no obvious lines, and unless you (or your best friend) are a professional makeup artist, don't even let the word "contouring" enter your mind. Keep it natural and beautiful.
Remember, your wedding day is all about you, and you want to look like you, not a caricature of yourself. Keep it simple and classic, and your guests (and your groom!) won't be able to take their eyes off of you!