The Prettiest Wedding Manicures for Every Type of Bride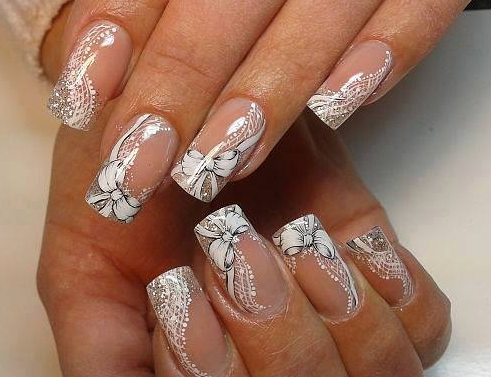 Your big day is at hand, and YOUR hands will be on full display all day as you hold your bridal bouquet and then take your groom's hand as you exchange vows, show off your gorgeous wedding ring, and enjoy your first dance as husband and wife. You want to make sure you have the perfect manicure to compliment your perfect day.
It's important to keep in mind that your wedding day is NOT the time to try out any new, wild nail trends or outrageous colors. Many brides like to add a small pop of color to their wedding color scheme somewhere, but it is generally a good idea not to take risks by doing it with something as important as your manicure. If you simply must do something eye-catching with your nails, consider using a top coat with a hint of glitter, or add a small jewel to each nail tip. No matter what you choose to do, keep your nail color pale, such as a soft pink, blush, or nude shade. A French manicure is always stylish. For a modern yet understated twist to the French manicure, use a small strip of metallic color at the top of the nail instead of the traditional white.
A popular yet classic manicure trend is ombre colors. A pretty pink shade fading into a pale blush or a soft peach shade softly fading to a pearl color will compliment any color scheme and any blushing bride.
For the bride who is known for her unique sense of style and individuality, something unexpected is, well, expected. Go for something a bit flashy but not over-the-top. Try an understated manicure with a single bold nail on each hand. Coat one nail in gold glitter, for example, or attach a bold jewel to a single nail on each hand. This will be in keeping with your own personal style while still keeping things traditional and elegant.
If you want to make a statement with some standout colors, paint on a quick coat before you head to the reception. You and your nails will be ready for toast after toast, cutting the cake, and dancing the night away in style. Your wedding is YOUR special day, so whatever you decide goes. Whether you opt for classic and understated or bright and bold, perfectly manicured nails will make any bride even more breathtaking.